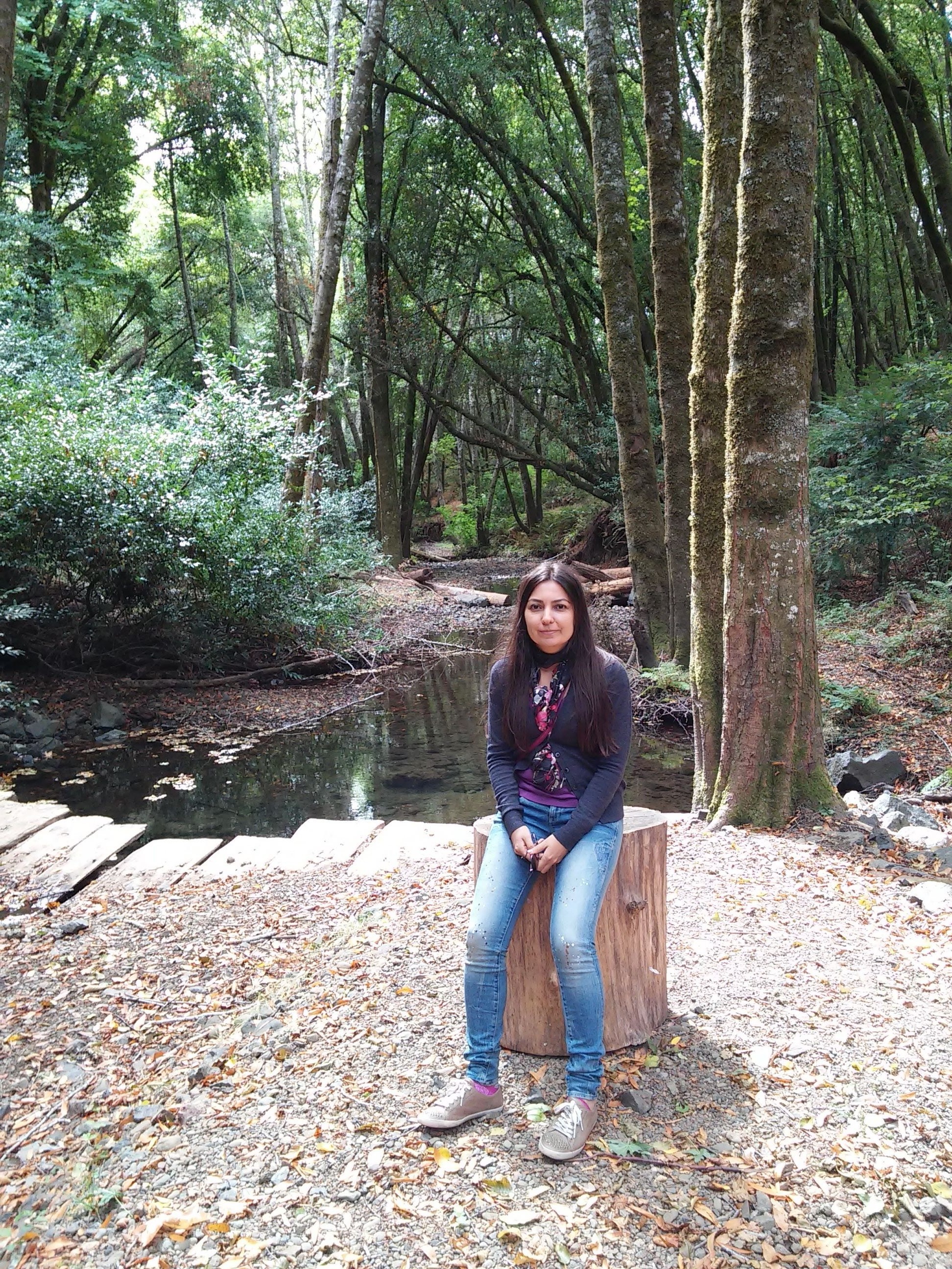 Funda G&uumlltepe
Assistant Professor
Department of Mathematics and Statistics
University of Toledo
2801 W. Bancroft St.
Toledo, Ohio

Office: UH 3016
e-mail: Funda.Gultepe@utoledo.edu


CV

I am an Assistant Professor at the University of Toledo, department of Mathematics and Statistics.

I am also a proud executive director of upcoming MathCorps Toledo!! Consider donating us, joining us, and spread the word!!

Previously, I was a postdoc at the University of Luxembourg as a member of the research group of Hugo Parlier.

Between 2013-2017 I was a visiting assistant professor at UIUC where my mentors were Chris Leininger and Ilya Kapovich .
I also spent a semester (Fall 2016) at the MSRI as a postdoc, and there my mentor was Ursula Hamenst&aumldt.

On the left you see me in one of the wonderful California redwood forests.
This semester Xiangdong Xie and I are organizing Toledo-BGSU joint seminar in Geometry and Topology .


TEACHING:
This semester (Fall 2021) I'm teaching differential equations (Math 2860) and Topology (Math 5450)
RESEARCH:

My research is supported by NSF grant DMS-2137611.


My research interests are in intersections of low dimensional topology and geometric group theory with emphasis on the free group, outer automorphism group Out(F_n) of free group, mapping class groups and right angled Artin groups. I am also interested in computational problems related to optimization on surfaces.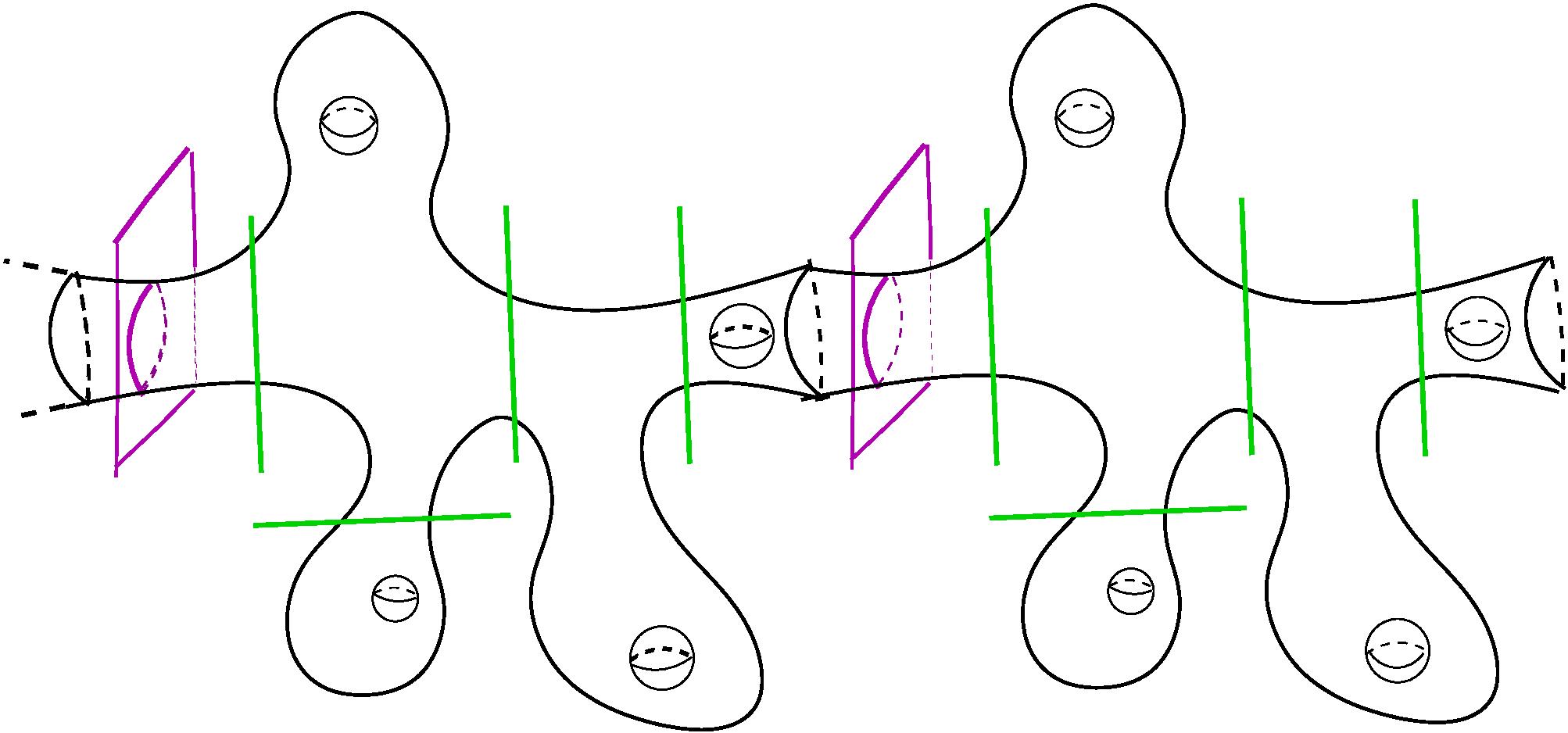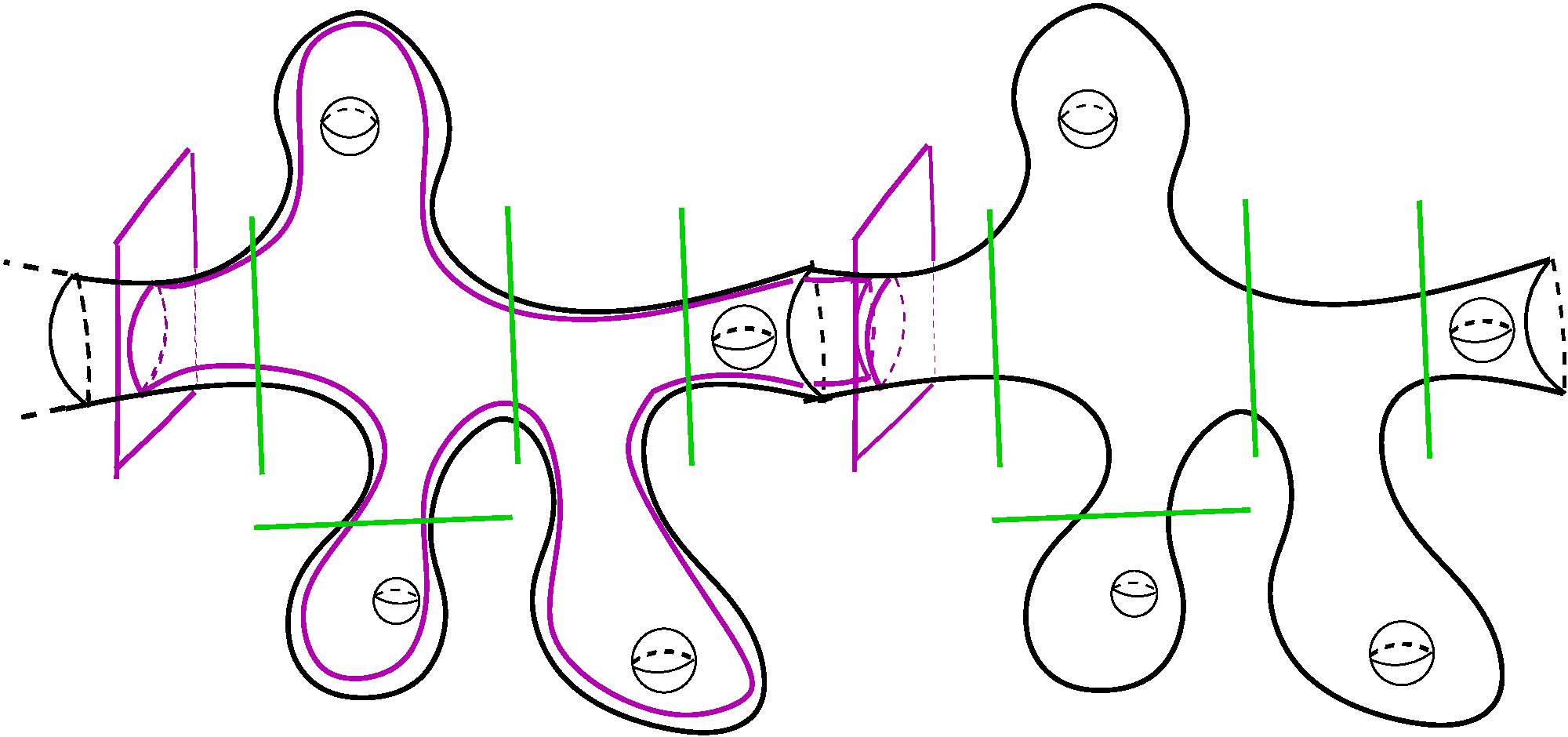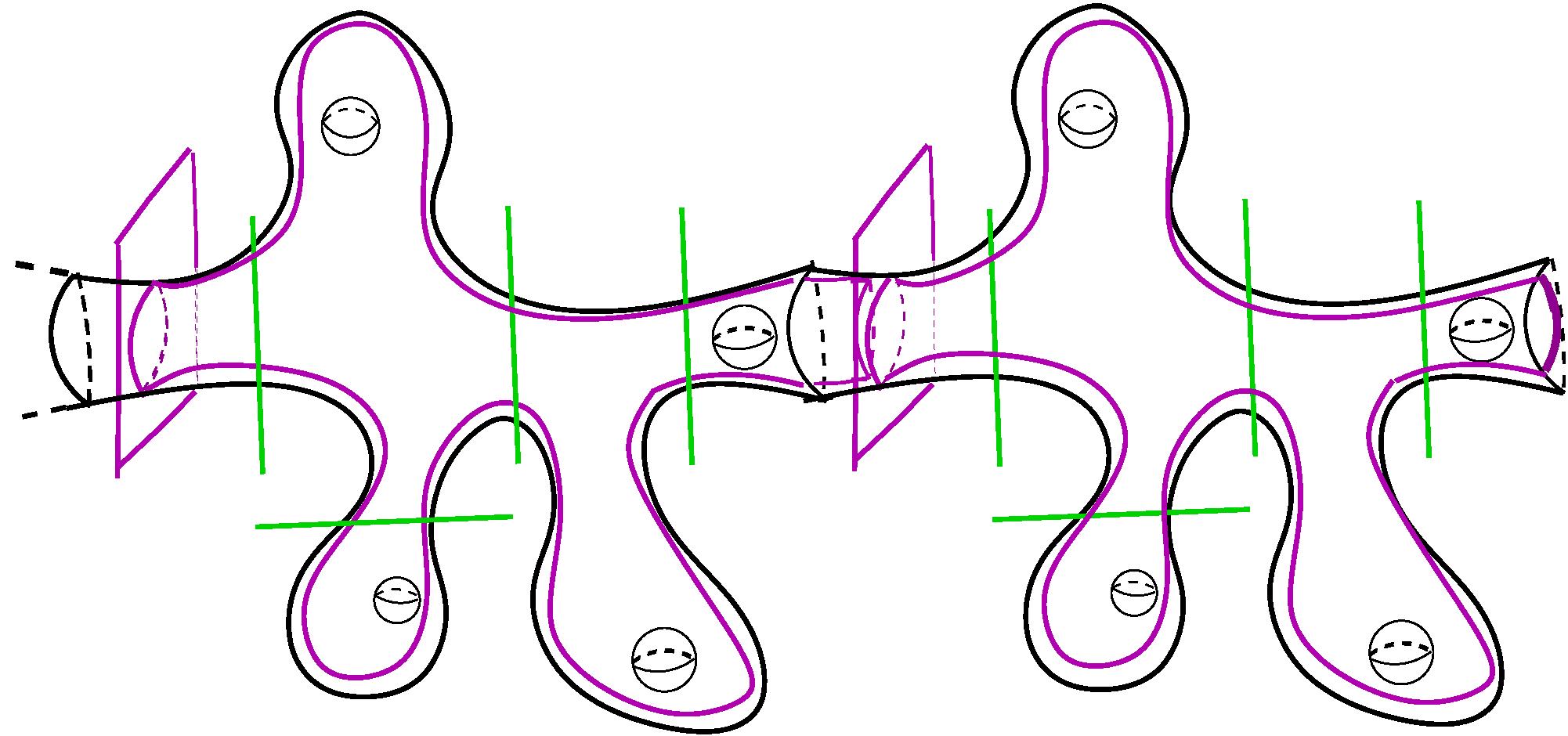 Above is a two copies of an embedded torus in the universal cover of double handlebody (#_n(S^2 x S^1)), and the images of purple intersection disk under a Dehn twist along this torus. The middle picture is after twisting once, the last picture is the image after twisting twice.

My research papers:
Normal tori in #_n( S^2xS^1), Topology Appl., 160(8):953--959,2013 , also in arxiv.
Fully irreducible automorphisms of the free group via Dehn twisting in #_k( S^2xS^1), Algebr. Geom. Topol., 17(3): 1375--1405, 2017, updated preprint.
The video of this talk.
An arc graph distance formula for the flip graph , with Chris Leininger . Proc. Amer. Math. Soc., 145(7): 3179--3184, 2017. Preprint in arxiv.
A combination type construction of fully irreducibles, preprint: pdf
A universal Cannon-Thurston map and the surviving curve complex, with Christopher J. Leininger and Witsarut Pho-on, submitted: arxiv preprint
Mapping class group of closed surfaces via hexagon graph, with Hugo Parlier, (in preparation)
Hyperbolicity and relative hyperbolicity of Aut(F_n) complexes, with Ursula Hamenst&aumldt (in progress).


INVITED CONFERENCE TALKS:

AMS sectional meeting, Binghamton, October 12-13, 2019 (Upcoming)
Conference on Outer Space, University of Bielefeld, Germany, September 2019. (Upcoming)
A geometric construction for the iwip automorphisms of the free group, Joint Mathematical Meeting, Baltimore, January 2019.
A Cannon-Thurston map for boundary for the surviving curve complex of a punctured surface, Iberoamerican Congress of Geometry, Vallodoid, Spain. January 21-24.
A distance formula in Out(F_n), Weihnachtsworkshop, University of Saarlandes, Germany. December 18-20, 2017.
A distance formula in Out(F_n), CMS winter meeting 2017, University of Waterloo. December 8-11, 2017.
IAS women and math program, research seminar talk, May 2017.
Video of the talk
Lightning talk, Georgia Institute of Technology, December 11, 2016
Lightning talk, Georgia Institute of Technology, December 2015
GGD day, Purdue,Nov. 21 2015
Geometric and Probabilistic methods in group theory and dynamical systems conference, Texas A&M, College Station, November 9-12, 2015
Slides from the talk
Spring topology and Dynamics conference, Bowling Green, April 2015
Slides from the talk
Young Geometric Group theory in the Midwest Workshop,
University of Wisconsin, Madison, November 1, 2014.

Cannon-Thurston maps, space filling curves and boundaries of curve complexes, Colloquium, Bowling Green State University, April 2019 (INVITED)
Algebra Seminar, University of Toledo, November 22 and 29, 2018.
Differential Equations and nonlinear analysis seminar, University of Toledo. November 22 and 29, 2018.
Mini course: Introduction to mapping class group I \&II, ANRSoS kickstart meeting, Nancy, France. May 2-3, 2018.
Hyperbolic Lunch talk, University of Toronto, Canada. December 13, 2017. (INVITED)
Geometry and Topology seminar, University of Luxembourg. November 29, 2017.(INVITED)
Geometry and Topology seminar, Middle East Technical University, Turkey. November 6, 2017.(INVITED)
University of Toledo, Colloquium, April 2017 (INVITED)
Rice University topology Seminar, April 2017 (INVITED)
Constructing generic elements of $\Out(F_n)$. MSRI, Post-doc seminar. October 14, 2016.
An arc graph distance formula for the flip graph, Geometry Seminar, Indiana University Bloomington, IN, April 7, 2016 (INVITED)
Bogazici University , Colloquium, June 2015 (INVITED)
University of Oklahoma Geometry and topology seminar talk, March 2015 (INVITED)
UIUC Group Theory seminar talk,
Spring 2015. video of the talk.
UIUC Group Theory seminar talk,
Fall 2014.
Subgroups of Out(F_n) generated by two Dehn twist automorphisms. Brown University, January 30, 2013 (INVITED)
LINKS